…a game was born from a simple observation.
In 2004, Rory realised how much the simplest images could spark the imagination.
That's when he had an idea: use those images to create and invent stories.
Quickly, that idea turned into a game, and that game turned into dice covered in symbols. And so they were named: Rory's Story Cubes.
Their role? To act as a compass, a guide to invent the craziest and most wonderful stories. Adventures of all kinds: fantasy, epic, magic, extra-terrestrial…
Parents, children and even teachers invented hundreds of stories, and not long after, in 2006, there was no doubt about the creative value of these cubes, and the first games were sold.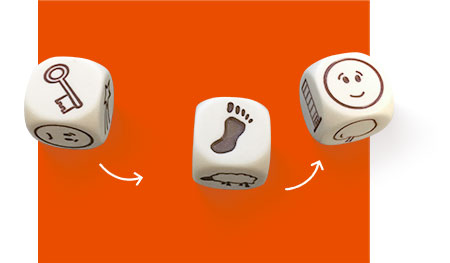 In just a few years, Rory's Story Cubes became famous in Europe and the United States.
Purchased by Asmodee in 2016, Zygomatic studios are now responsible for making this brand shine.
Today, we are overwhelmed by the amount of creativity coming out of this game. Stories of fairy tales imagined, novels written, illustrations drawn and songs composed, all serve as proof that Rory's bet paid off. Rory's Story Cubes is a game that offers a key to finding inspiration, to take one step further in narration, and experience wonderful moments full of emotion while playing together.